Behind The Title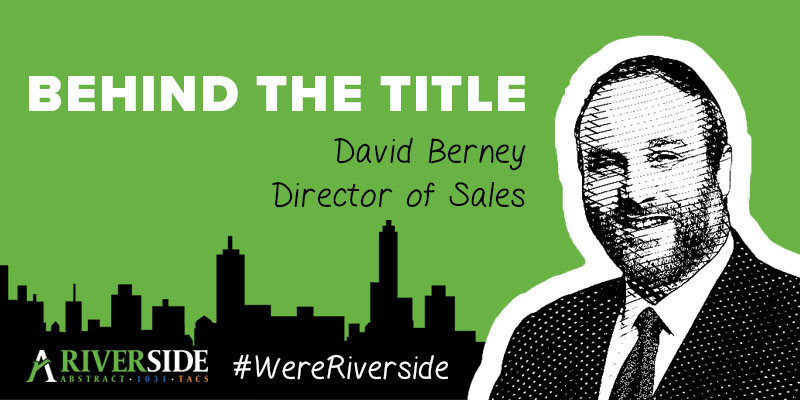 Meet David Berney
How long have you been with Riverside Abstract?
I've been with Riverside since the beginning which is now almost 10 years.
How did you come to Riverside Abstract?
I was working in the real estate industry for a few years when I met Shaul Greenwald and he invited me to be a part of Riverside. As it was a start up company and I didn't know Shaul previously, I did my due diligence and asked around. One person vouched for Shaul as a "really nice guy" saying we'd be a good match and joked that the two of us should call the new firm "Nice Guy Title".
What do you think sets Riverside Abstract apart as the 'better title agency' ?
We don't look at ourselves as a title agent. We try to be the resource for our clients for anything they need. Finding deals for clients, introudcing clients to the right equity sources, partners, lenders, service providers or whatever else they need and they know it. Plus, we're not afraid to mix things up and offer innovative new programs such as our Riverside Experience learning and networking division and always with a fresh angle.
What part of your job do you find most satisfying?
I'm a people person and love helping others, finding out what they need and how I can make that happen for them. I would never have the patience to sit still at a desk all day so I'm glad that I can jump on the phone, meet with clients and keep moving.
As Director of Sales what advice do you give to sales rookies?
My main advice is to always focus on your key clients and growing those relationships. I encourage our sales team here to always delve deeper and see what additional services they can help their clients with. For someone to see success in sales, I strongly believe they need the "Three P's": Patience, Persistence, and Perseverance. Working in sales is not always easy or as fast moving as one would hope so having those qualities is invaluable.
Can you give us an example of you what you do to grow those client relationships?
When it comes to sales and motivation experts, I am a huge Darren Hardy fan.
I've read his books and watch his daily tips. I even managed to get a few clients hooked on him.
Once a client of mine told me he had started waking up at 4 am since he had a new baby to get things done with all the chaos that babies tend to bring with them. That same day, I saw an article by Darren Hardy about waking up extra early on Sunday mornings to plan and prepare for the week ahead. I immediately forwarded that article to my client to show him he was in company. As small as that gesture was, my client was thrilled. I think it showed him I was listening and understood what he was going through at that moment in time.
Read the Behind The Title for our CEO, Shaul Greenwald? See it here.
Have you met the rest of our team? Meet the others who help lead Riverside Abstract every day.
Ready to get the ball rolling?