The Riverside Pesach Carnival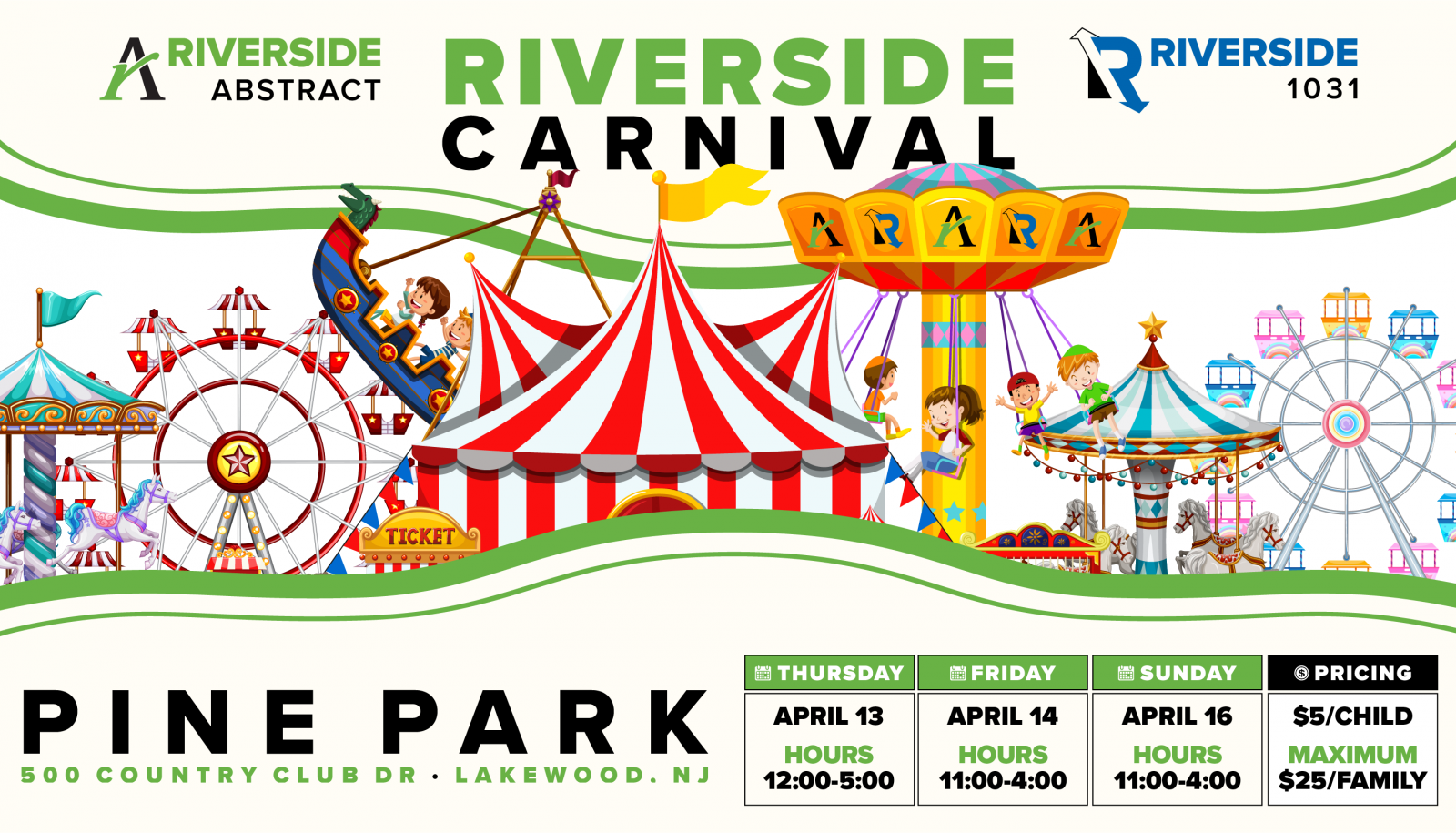 This year there is no need to stress about what to do on Chol Hamoed. Riverside Abstract has something for you to do each day! Riverside will be hosting a fantastic carnival in Pine Park, that will be open the entire Chol Hamoed.
The Carnival will feature attractions for children of all ages. Pit your skill against the thrilling 60-foot obstacle course, jump around in the moon bounce, take the toddlers to the special little tykes section or sit back in the crowd favorite trackless train. Make sure to claim your complimentary Riverside Family Car Magnet at the registration desk.
The cost is $5 per child with a maximum $25 per family (Adults are free!). The weather permitting the carnival hours are:
Thursday, April 13th 12:00 PM - 5:00 PM
Friday, April 14th 11:00 AM - 4:00 PM
Sunday, April 16th 11:00 AM - 4:00 PM
Riverside Abstract's first community Pesach event joins a long tradition of giving back to the Lakewood Community. The Pesach carnival will take its place alongside other initiatives such as the Chanukah amusement park and giveaways, The Riverside Hoshanas Cards and our public workspace, Riversuites.
The Riverside Abstract way of doing business is reflected in the everyday activities of title insurance, real estate closings, refinances and 1031 Exchanges. However, Riverside is committed to being "better" on other levels too. This means taking a personal interest in seeing each client succeed by helping them find suitable investors, investment opportunities and capital or simply making a good introduction.
This level of professionalism and dedication has helped propel Riverside Abstract to its current position of prestige in the U.S. real estate industry. It is ranked amongst the top 10 title agencies in New York and New Jersey and is ranked nationally as a "Top 25" agent for Old Republic. Riverside Abstract is licensed in over 35 states, and can facilitate closings in all 50 states.
If you or someone you know is buying or refinancing, make sure to tell your attorney or broker to call Riverside Abstract!
Ready to get the ball rolling?