Don't Slip Up on ECB Violations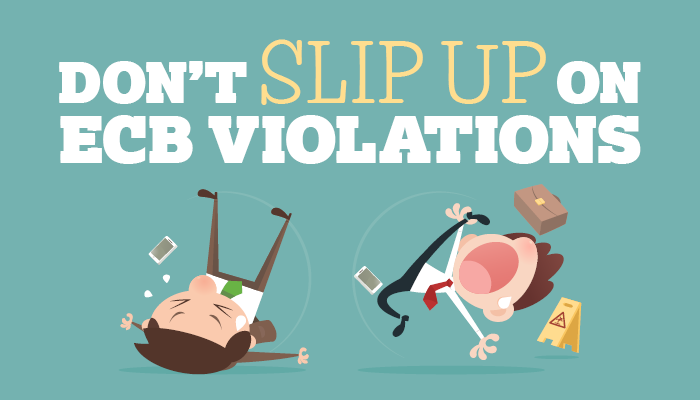 The scariest thing about environmental issues in the city is not the sticky black gum spots on the sidewalk, the subway stalagmites or the pizza eating rats. For real estate investors at least, the scariest thing is the NYC violations that are issued by a whole gamut of NYC agencies.
The City currently has over 200,000 active summonses for the violations issued in 2016 alone! These are tickets that are issued for violations of City laws.
Some of the City agencies that issue violations which directly affect property owners and investors are the following:
Department of Buildings (DOB)

Department of Environmental Protection (DEP)

Fire Department (FDNY)

Department of Health & Mental Hygiene (DOHMH)

Department of Information Technology and Telecommunications (DoITT)

Landmarks Preservation Commission (LPC)

Police Department (NYPD)

Department of Sanitation (DSNY)

Department of Transportation (DOT)

An owner may receive violations for many different reasons. They can vary from trash being left in the wrong location, failure to secure work permits, having a fuel leak , or simply parking a car in the wrong spot. NYC violations can carry serious penalties.
These penalties can start small, but if there are multiple violations on one property the costs can start to add up. In fact there are properties in the five boroughs with hundreds of thousands or even millions of dollars worth of outstanding violation balances.
Some of these violations can eventually be recorded as a judgment against the property, which means, that if you buy a property without doing your homework, you can be on the hook for violations that were perpetrated by the prior owners or contractors.
Recently a landlord was reported in the NYC papers to owe almost one million dollars in ECB violations. Buyers need to be aware that violations can cause a cloud on title. At Riverside we will do in depth searches on both the property and property owner to ensure that there are no outstanding issues that can get in the way of insuring the deal. It pays to use an experienced title agency like Riverside Abstract to search for any open violations, and assist in resolving these issues so your deal can go forward.
Got questions about "ECB" or other Title topics? Click here to ask an expert and get the answers you need.
The materials on this website are provided for informational purposes only and do not constitute legal advice. These materials are intended, but not promised or guaranteed to be current, complete, or up-to-date and should in no way be taken as an indication of future results. Transmission of the information is not intended to create, and the receipt does not constitute, an attorney-client relationship between sender and receiver. The newsletters and articles on this website are offered only for general informational and educational purposes. They are not offered as and do not constitute legal advice or legal opinions. You should not act or rely on any information contained in this website without first seeking the advice of an attorney.
Ready to get the ball rolling?