The Long Island Dupe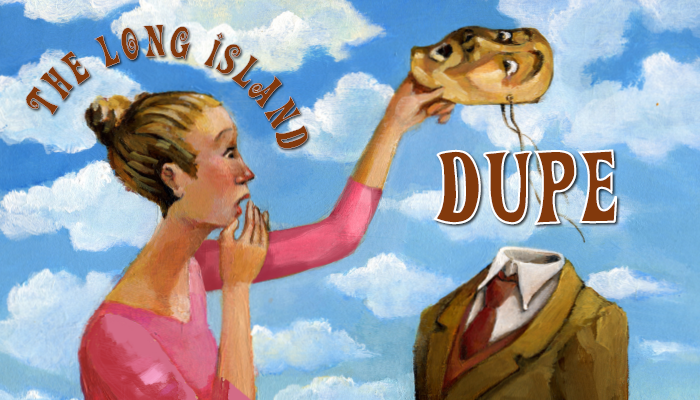 There are many reasons why a buyer should purchase title insurance when they purchase real property. Besides for the myriad benefits and security that the title search process provides, ultimately the main reason for title insurance is to protect the purchaser in the case of a claim made against their newly purchased property.
Recently, there was a story reported in the New York Post and other news outlets about the sale of the Historic Huntington Town House Catering Hall. Longtime owner Rhona Silver managed the event space that played host to dignitaries such as Bill and Hillary Clinton and celebrities like George Clooney and 50 Cent.
In 2003, Rhona Silver thought she'd met the man of her dreams, Barry Newman. On their first date, Newman flew Silver, a divorcée in her late 50s, to Boston on a private jet for a seafood dinner. On their second date, they went to Rome for Italian food.
"He took me to Valentino shopping, to the Spanish Steps [in Rome], bought my daughter a fur pocketbook," Silver told The Post.
She fell hard — and quickly entrusted Newman with her finances, even letting him oversee the sale of her legendary catering hall.
"He said, 'I'm going to take care of you and your family forever,' " the single mom recalled. "I had no reason not to believe him."That is, she says, until the businessman took her money and ran.
Newman secured a $38.5 million deal to sell the Silver's catering hall to Lowe's in June 2007. Now Silver is suing Barry Newman for $25.9 million, alleging he forged her name on documents for the sale of the hall's 18-acre property and ripped her off for millions, according to her pending Suffolk County lawsuit.
"No one told me when the closing was, no one told me about it," Silver said about the Lowe's sale, which took place in the offices of Newman's lawyer in Binghamton, NY.
Her attorney, Jeffrey Buss, showed The Post documents with what he claims are Silver's forged signature. In an affidavit, a forensic document examiner says that two sets of closing documents, one from March 2007 and another from June 2007, have three signature lines bearing Silver's name and the script is identical on each.
"It is axiomatic that no person signs his name exactly the same way twice," the examiner, Andrew Sulner, says in court papers. "It is irrefutable that at least one of these two signature blocks is a forgery accomplished by means of a mechanical or digital 'cut and paste' process."
Silver was supposed to net $6 million on the sale but she got nothing and is now dependent on friends to make ends meet, according to her suit. Newman's attorney, Douglas Cooper, said there "is not a single shred of truth" in Silver's claims. In court papers, Newman admits he swept into Silver's life to help a damsel in distress. But, he says, "Silver's claims that she has been victimized are a blatant fraud," maintaining she used the loans to fund her "lavish lifestyle.
Read the entire story here
http://nypost.com/2016/02/22/dream-man-seduced-divorcee-then-stole-millions-lawsuit/
Lowe's likely purchased a title insurance policy for this transaction, which would cover them from claims by Silver that the sale was fraudulent. In this particular story, the fraud should have been detected, since title companies send a closer, being an agent of the title company, to make sure that the people purporting to be the correct signatory, is in fact the correct person. The closer requires that every person signing any documents at closing, give them a valid current legal photo ID (driver's license, etc.), to which they match up with the named individual listed on the documents. The fact is that most title claims arise from fraud.
Riverside Abstract's highly skilled title professionals will search all recorded documents for both obvious issues, such as judgments and liens, as well as red flags for less obvious issues.
At Riverside we have policies in place and examine each transaction with care to detect any instances of fraud. It is important to have a title company that you can rely on to protect the client, by making sure that there is no indication of fraud, and that has insurance companies with a financially strong background in case of a claim. Riverside underwrites with some of the nation's largest insurance companies to guarantee our cleints peace of mind in each transaction.
Relevant links
https://cases.justia.com/new-york/other-courts/2012-ny-slip-op-32572-u.pdf?ts=1350314187
http://www.courts.state.ny.us/courts/ad2/calendar/webcal/decisions/2014/D41166.pdf
http://www.msek.com/news-article/robert-zausmer-quoted-in-the-long-islander-on-two-point-three-million-win.php

Got questions about "Fraud" or other Title topics? Click here to ask an expert and get the answers you need.
The materials on this website are provided for informational purposes only and do not constitute legal advice. These materials are intended, but not promised or guaranteed to be current, complete, or up-to-date and should in no way be taken as an indication of future results. Transmission of the information is not intended to create, and the receipt does not constitute, an attorney-client relationship between sender and receiver. The newsletters and articles on this website are offered only for general informational and educational purposes. They are not offered as and do not constitute legal advice or legal opinions. You should not act or rely on any information contained in this website without first seeking the advice of an attorney.
Ready to get the ball rolling?