Only Two Things Are Certain, Death and Taxes... (and Water)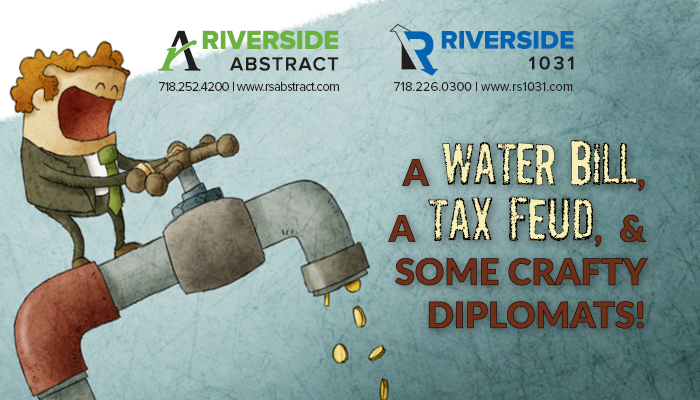 A building owner was caught in a financial hole involving a foreign government, the City of New York and the State Department. Harlem building owner Mitchell Mekles says that after leasing 5,000 square feet for a consulate office on the fifth floor of 101-115 West 116th Street to the Republic of Senegal, the tenant refused to pay either real estate taxes or water bills.
When he complained, Mekles says the Senegalese stopped paying rent altogether and he obtained a legal eviction. But upon guidance from the Mayor's Office for International Affairs (which says it does not get involved in civil matters) and the US Office of Foreign Missions, marshals would not go through with the Jan. 14 eviction.
According to attorney Lauren Popper, Mekles is owed over $135,000 in rent, property taxes, water, interest and legal fees. After The Post got involved, a Senegalese Consulate official called to say the rent was paid. "We had some delays due to bureaucratic issues but it is now paid for," he said.
The country is still disputing the real estate taxes under the "Geneva Convention" [sic] meaning the Vienna Convention governing consular relations. "We are sorting it out," the consulate official said, refusing to give his name. The Vienna Convention states in Article 23.1: "The sending State and the head of the mission shall be exempt from all national, regional or municipal dues and taxes in respect of the premises of the mission, whether owned or leased, other than such as represent payment for specific services rendered."
The consulate is also disputing its water bill, which is split by square footage with four other tenants, including a restaurant. When asked if that should have been discussed before the lease was signed, the official said he was not there at that time. "We are willing to sit down and sort out in a responsible way," he said.
Mekles says he discovered that Senegalese officials spread out onto 8,500 square feet of the 10,000-square-foot floor — more than the 5,000 square feet they rented — and would not let him prepare the area for iHope, a school for severely disabled children, that needs to expand in the building.
You can read the rest of the story here.
This case has many issues that need to be dealt with from a legal perspective, but for title purposes we will concentrate on the outstanding water and taxes.
In this case, allegedly, the Senegalese Consulate tenant did not pay their water and property taxes, which they were likely responsible for, if the office was a net lease. The landlord did not pay the taxes and water as he felt it was the tenant's responsibility. The Senegalese Consulate tenant did not pay the taxes and water, as they claimed they were exempt under international statute. The responsible party remains to be decided in court. Ultimately, the building accrued outstanding property taxes and water bills, which resulted in liens against the property.
The reason why water bills are lumped together with taxes is because in some municipalities such as New York City, water service is provided by the City and outstanding taxes and water bills are liens against the property.

Electricity and other utilities are provided by private entities which need to get a monetary judgment for the ability to place a lien on the property for outstanding bills. As the title company, we conduct in depth searches on every property we insure. Our searches will routinely pull up outstanding water bills or property taxes. Riverside requires that money be collected at closing, to ensure that those open taxes and water liens are paid off.
Buyers need to be aware that property tax and water liens can be significant. We recently had a case where a property owner had not paid taxes in more than two decades, and the tax search showed more than 6 million dollars' worth of outstanding liens against the property!
There are many reason why property taxes and water bills may go unpaid, whether it's slippery diplomats, shoddy property management, or simple oversight, but as a buyer, it's important to be aware that there can be significant liens on the property because of these bills.
It is important to have a skilled and experienced title agency like Riverside Abstract on your team.
Got questions about "Property Taxes or Water Bill Liens" or other Escrow topics? Click here to ask a Riverside expert and get the answers you need.
Riverside is currently one of the top 10 title agencies in New York as well as in New Jersey. In addition, we are ranked nationally as a top 25 agent for Old Republic. Riverside is licensed in over 35 states and facilitate closings in all 50 States including many multi-site commercial deals and a considerable volume of high-end residential transactions. We currently have over $100mm in escrow between our title company and our 1031 exchange division and work in various capacities with many of the most prestigious investors, owners, lenders and law firms.
The materials on this website are provided for informational purposes only and do not constitute legal advice. These materials are intended, but not promised or guaranteed to be current, complete, or up-to-date and should in no way be taken as an indication of future results. Transmission of the information is not intended to create, and the receipt does not constitute, an attorney-client relationship between sender and receiver. The newsletters and articles on this website are offered only for general informational and educational purposes. They are not offered as and do not constitute legal advice or legal opinions. You should not act or rely on any information contained in this website without first seeking the advice of an attorney.
Ready to get the ball rolling?